Durable & Affordable Dentures Carrollton from $899, Make Your Smile Better Than Ever. Not all the Dentures are the same. Free Consultation with Dr. Call now at (817) 462-0007 to make an appointment.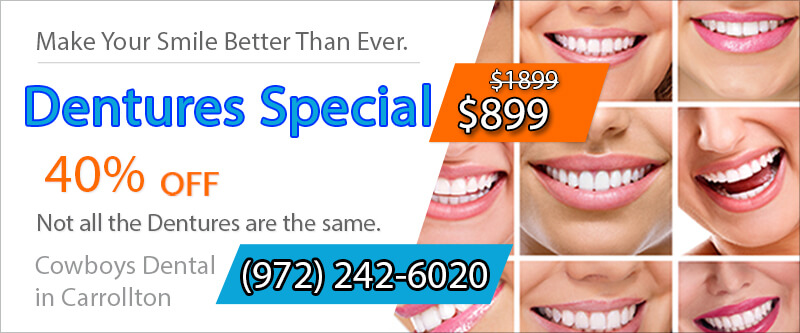 Dentures Carrollton At Dentures Carrollton, we take great pride in ourselves for offering top-quality dentistry at very affordable prices. We make every effort to make every patient our top priority. We help patients who have missing teeth re-establish their smile with beautiful dentures at affordable prices. Worrying about wearing dentures? Don't because they can actually better your overall life! Envision yourself being able to chew all of your food without any struggles, smile without any humiliation and speak more effectively. Dr. Majid Mirbahaeeddin will help you achieve a healthier and attractive smile with well-made, natural-looking dentures.
What are Dentures? Dentures are used whenever a patient has lost some or all of their teeth, and they are a set of artificial teeth to replace a patient's natural teeth. With dentures provided by Dentures Carrollton, patients will have much better chewing ability and have a greater visual appeal by providing the impression of having all-natural teeth. Some reasons why people lose there teeth include problems like; gum disease, poor oral hygiene, some sort of trauma, genetics or even extreme malnutrition. Additionally, when you lose some or all of your teeth, your facial muscles can start to droop and end up making you look older. Dentures will help fill in the physical appearance of your face and complete profile. They can be created to meticulously appear like your natural teeth so that your appearance will not change very much. Dentures may even very well enhance the look of your smile.
Types of dentures available:
Removable partial dentures
Fixed partial dentures
Complete dentures or full-set of dentures
Fixed dentures supported by dental implants
Regardless of what you may need, it starts with your initial appointment so we can properly evaluate your teeth to find out what you need and address your various denture options. From relines, partial and full dentures, to repairs, to even implants and extractions, Dentures Carrollton handles all aspects of denture services. Our caring and friendly professional staff is always prepared to serve you with all your denture needs. So, whenever quality matters as well as total cost, you'll always find the very best of both worlds at Dentures Carrollton. One of the most appealing attributes of Dentures Carrollton is our one-stop shop for all extraction and denture services with our on staff dentist. We strive to make certain our patients are completely comfortable.
With Dentures Carrollton, you can have your extractions and dentures all done in one place. If you have any questions or are ready to start your denture treatment, just give Dentures Carrollton a call at: (972) 242-6020 or make an appointment.